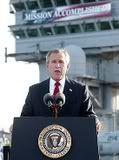 If you're going to fail, fail big.
My first seven years of life were spent in a secular family. My parents weren't concerned with my religious upbringing because they were post-hippies living in suburbia. We worshiped television, Atari, and The Dukes of Hazzard. It was the late 70s and early 80s and something like religion — confusing and ambiguous — wasn't on our family's radar screen.
When my parents separated in 1982, my mother sent me to a Catholic school. I had no background in the Catholic liturgy — but the teacher, a former nun, gave me the bible on my second day of school and asked me to read the scripture at an upcoming mass.
No problem, right? I can read. I'm wicked smart and gifted. I went up to the microphone, read the story from the bible, and sat down with great satisfaction. Aren't I cute? Wasn't I briliant?
Well it turns out that I was supposed to also read something called THE RESPONSORIAL PSALM, too — it's a call/answer portion of the mass. At seven years old, with no attention span, I totally missed those instructions.
Flashback to 1982: I'm down in my chair and wondering why everyone is staring at me. The priest clears his throat. My teacher rolls her eyes. I look down at my instructions, see the psalm, and run back up to the lectern. In the microphone I utter the words, "Oh shit."
Hello, third graders! I'm new in town. Want to be my friend?
Oy. The priest immediately dismissed me from the microphone and I fought back tears. So needless to say, the seeds of my anti-establishment nature were sewn at a very early age. Had I known, back in 1982, that it was so easy to procure & hang a MISSION ACCOMPLISHED banner, I would have done it. The banner would have been a perfect backdrop at St. Wenceslaus!