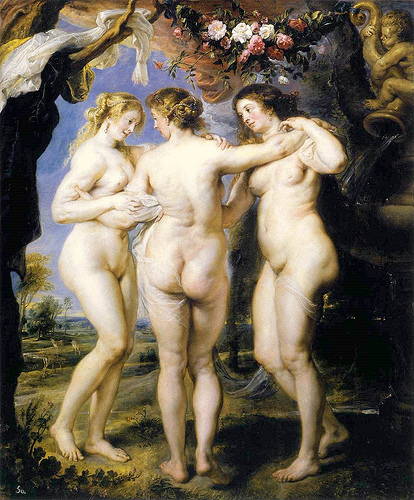 Without any kind of diet and exercise, I have a lovely body that should grace a Pieter Rubens painting. I am soft, supple and jiggly.
My brother once said, "You wouldn't be fat if it weren't for your butt or your thighs."
So true. And my stomach.
This is why I hate squeezing into jeans. No matter what I weigh, jeans seem so unrealistic. And I have the kind of body that lycra doesn't help. The best jeans for me are vintage denim — but those are expensive, stiff, and relatively hard to acquire in Raleigh, NC.
Right now I'm rocking two pairs of AG Jeans — the ex-boyfriend crop. The wash is distressed dark denim. I figure — I like the jeans so TWO pairs will last longer. I am also the proud owner of a pair of Sexy Boyfriend jeans. I had to go two sizes smaller to avoid looking like I'm carrying a load in my pants. I do have two pairs of Always Skinny jeans from The Gap. Dark wash. I hate them (sorta) but they work out okay (not great) with my boots.
Jeans. The most undignified piece of clothing out there.
What are you wearing? Do you have a favorite pair?