Oh. My. God. Hillary Clinton cried at The Brat Stop.
I hate tubular meat, but if you're going to cry, that's a fantastic place.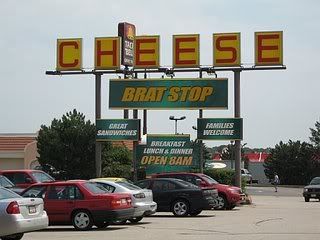 I have so much history with the Illinois/Wisconsin border and I'm totally excited about Tuesday's WI primary. I really hope Obama cries at the Mars Cheese Castle.
If we get really lucky, John McCain will shed a few at Apple Holler.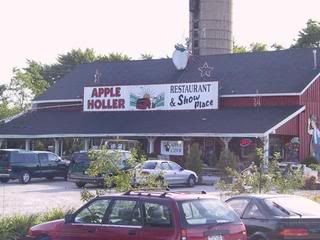 Who gives a crap if Hillary cries? The real story in Wisconsin is the food, and damn if I'm not totally in the mood for a heart-attack-on-a-platter. If it's not meaty and on a stick, it's not Wisconsin.
I'm homesick for Chicago, dudes. Most of all, I miss driving to Wisconsin for cheap clothing and lottery tickets.
::update::
I've received some email so I have to clarify the following sentence:
If it's not meaty, broasted, or on a stick — served either family-style, at a trout boil, or at a buffet — it's not Wisconsin.