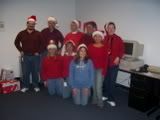 Here's the deal — I'm unemployed and just realized that I won't receive any invitations to office holiday parties.
This means I won't be having overpriced drinks at a fancy Manhattan hotel; there will be no "all-sugar & carbohydrate buffet lunches" in poorly-lit conference rooms; no appetizers & wine at a local restaurant. There will be no sparkly dresses, no cheese & crackers, and no holiday cookies. What's worse? There will be no drunk employees, sexual harassment claims, or embittered colleagues who RSVP but don't show up for the party!
This is totes depressing, people. What is the meaning of Christmas if it's not a time for problem-employees to start acting out their frustrations? Who will cry on my shoulder, this year, and tell me that he hates his wife while trying to balance a glass of wine in one hand & a crabcake in the other?
Help a sister out — invite me to your office holiday party!
If you offer me a serious invitation to a company-sponsored holiday party that can be verified by three independent employees at your company, I will absolutely attend. If it's not too far. And if I know someone in your town. And if you let me take some pictures for the blog, yo.
This party can be an office buffet, cocktails & appetizers at a local bar, or a black-tie evening at The Millennium. Whatever. It would be my honor to be your date, but more importantly, it would be your honor to help out an unemployed HR Punk Rock Girl and take her to a party.
We could have a swell time. Think about it!