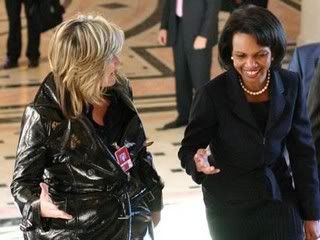 I know no one watches Nightline, but Cynthia McFadden just interviewed Condi Rice while wearing the ugliest black, patent leather coat. (Is it patent leather? Now I'm questioning my judgment but it looked super-shiny on television.)
There are so many lessons on the workplace and leadership in this image.
I'm very open-minded when it comes to fashion at work because it's not my job as a Human Resources leader to tell you what's appropriate to wear on your body. Unfortunately, I want to take Cynthia McFadden aside and provide some coaching.
This is a teachable moment, Cynthia. No patent leather. Not for you. Not ever.