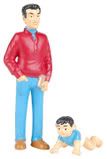 Dear Laurie,
I am a Human Resources generalist and I didn't marry well enough to quit my job, stay home, and have babies. I hate my job and my employer.
My question is this — when do I start buying lottery tickets? Should I bother?
Thanks,
Disgruntled HR Employee
*
Dear Disgruntled,
Boy, your husband is a lucky man. He's married to a woman who hates her job, wants to have babies, and is bad at math. Nice.
If your husband can't earn enough to let you stay home, maybe you should find yourself a new husband. Husband #2 should be handsome, stupid, and independently wealthy. Then you won't need to win the lottery.
Good luck with that, yo.