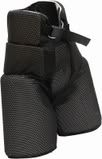 Dear Laurie,
How many days/week can I wear the same pair of pants?
Love,
Needs More Pants, Yo
*
Dear Pants,
The answer to your question depends on three important & interrelated things:
the frequency of your interactions with people who matter
the amount of physical activity you'll perform at work
your proximity to a washing machine & dryer
If you're interacting with C-suite leaders or important customers, you will need to diversify your wardrobe. The point of diversification is not just to look great, but rather, to ensure that the focus is on your product or services (& not your fashion choices). I would suggest five solid outfits with mix/match pieces so you can go ten days without wearing the same exact clothing arrangement.
If you sweat and/or have a physically taxing job — or if you work in retail — you need to change your pants every day; however, you can wear the same pair of pants every single day if you wash them on a nightly basis. (I'm not kidding. Wash your pants!)
If you're a slave to the cubicle like most of us, you can rock the same pair of pants 2-3x/week as long as it's not two days in a row — and as long as you're not too sweaty.
Hope that helps.
Love
Laurie