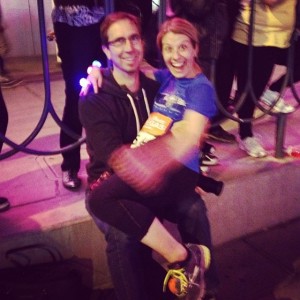 Every race has a story.
The Rock 'n' Roll Las Vegas Marathon was the worst race I have ever experienced for many reasons, but I ran strong and had one of the best weekends in Las Vegas with my husband and friends.
It's all an adventure.
First of all, this marathon is for-profit despite an affiliation to a charity. Rock 'n' Roll Las Vegas Marathon offered a $150 pass for access to a premium porta-potty. I am okay with capitalism but this rubs me the wrong way.
Runner tracking didn't work. Don't pay the $5 for your friends to receive texts. They won't.
If you are just a normal runner and want to pick up your bib and run, you still have to truck around an expo hall. The expo hall was organized like a casino. You enter in the main door but you are not allowed to exit until you walk through a parade of expo hall booths.
The day of the race was weird and disorganized. Runners weren't sure where to go before the race. Signage was confusing. Volunteers didn't know much. The gear check area was chaotic. My advice? You shouldn't bring anything you can't carry. Some runners ran out of time and just ditched their stuff on the side of the road.
The water and Gatorade stations were poorly organized. This is my biggest beef with the event. Runners collided more than I've ever seen at any race. When I got to a table, I had to stand around and wait for hydration. The event ran out of Gu at the end. But there were plenty of photographers encouraging me to stop and pose for photos by iconic signs and hotels.
There is a serious course limit. This is my first marathon and I ran a slow pace (11:49). The Rock 'n' Roll officials warned that the course had a five hour limit (11:30). Of course, when it came to enforcing that limit, no Rock 'n' Roll officials were in sight. Unfortunately, the cops were left to notify runners. And it wasn't pretty. They opened traffic and I had to turn around and head back to the finish line. I was about fourteen miles into the race and devastated. I tried to fight it but the cop was just doing his job. I ran the last ~7.2 miles back to the finish line at The Mirage.
Running  the last half to the finish line was like running through the twilight zone. Other than downtown Las Vegas and the strip, it is dark. I didn't see any bikers or Rock 'n' Roll officials riding the course to check on runners between the first aid stations. And I continued to pass more poorly organized aid stations. The last one was abandoned. As a runner, I felt like I was on my own after mile 22.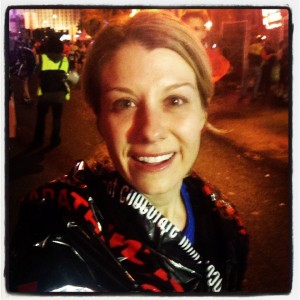 I ran 21.2 miles and crossed the finish line at 4:22.  I am okay with the results. I ran this race to learn how to run a marathon. I wanted to learn perseverance. I wanted to have fun with my family and friends. I did my best. No shame. None at all.
But they were still trying to sell me stuff at the end. I had 100 photographers yelling at me, "Hey lady, get a finisher photo!" But no volunteers were in sight to give me a bottle of water. There were pints of chocolate milk in a tall bucket. I grabbed a foil tarp from a fence and found a table of apples and bagels.
That's when I saw people from the strip coming in through the open fence and stealing bags of bagels.
So much for a secure spot.
I would not recommend the Rock 'n' Roll marathon series. I know they are really nice people. Unfortunately, I have run better not-for-profit races.
The good news? Running the strip at night was breathtaking. The moon was out and there was glitter in my eyes.
And I've signed up for my next marathon … The Flying Pig in Cincinnati!
Onward!