If you are like me, the following statements are true:
You are unemployed.
You make daily trips to Target.
You hang out at the clearance rack looking for reduced-price beauty & haircare products.
I made a most impressive find in the clearance bin, today. It's something called Scentology.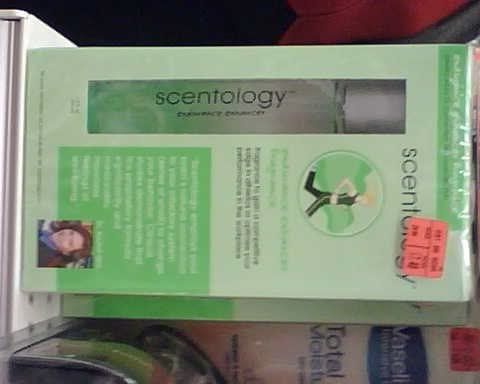 The Endurance Enhancer formula claims:
"A time-released, fully invigorating, fresh scent cue scientifically demonstrated to increase physical energy and performance. Can be used to gain a competitive edge in athletics, or optimize your performance in the workplace."
I was tempted to buy the fragrance but I don't have a need to optimize my performance. I'm on top of my game, baby. It's the game of unemployment, and I'm a champ.
Furthermore, I can't imagine that a scent would improve my performance. I wish I could test this theory with some of my former colleagues. I'd like to know:
Is it possible for scent to improve your performance?
Do you think odor impacts the way you perceive other people?
Would you work harder & be more productive if you smelled a certain way?
Could you possibly earn more money based on your personal flora?!
Could this product be the biggest batch of bullshit in America?
What I like most about the product is the information on the website:
There is improved performance on clerical tasks associated with administration of peppermint odor. Studies by Dr. Bryan Raudenbush at Wheeling Jesuit University showed that peppermint increased feelings of vigor, energy, speed, reaction time, confidence, strength and overall physical performance, and also decreased feelings of fatigue, effort and frustration.* Scentology