This is the post I started to write about picking out my wardrobe for the SHRM conference.
Business casual stabs me in the heart and makes me get all emo & shit. I walked around Macy's, today, and felt mournful and melancholic as I ran my fingers through piles of polyester and cotton pants. Most clothes looked like costumes from the 80s, chopped up in a Chinese labor camp, and stitched back into pieces for parochial mass consumption. Your madras make my eyes bleed. Your day-glo makes my heart ache. Why must business casual be so tacky and have elastic waist bands? What's with all the embroidered patterns for petite ladies? Do we masquerade as shrunken old women?

You've embroidered your heartache on my soul. The world/the world/the world for a decent pair of easy-breathing yoga pants.
For reals, that was my first draft. This is why I'm not a writer.
Most HR dudes will stuff some polo shirts in a bag and be done with it. In the spirit of equality, I'm dropping the emo-glorious nonsense and packing lightly. I will be at SHRM on Sunday and Monday, and what's important are the basics: underwear and my laptop. I won't wear yoga pants, but my wardrobe choices will be vanilla and boring.
I won't, however, wear any of these options.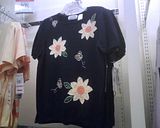 I'll see you Sunday & Monday.