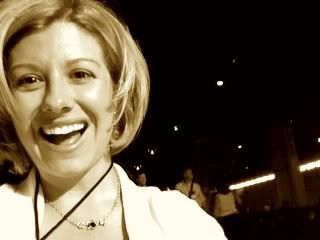 Hello from SHRM. I'm in the convention hall where Sidney Poitier will be speaking to the crowd at some point in the future. There is no designated seating for the press and I actually said, "…but I'm Laurie Ruettimann."
Like, oh, yeah, Laurie, sure, go ahead and sit on Sidney's lap.
(What can I say? The girl can't help it.)
I did use my official press badge to walk into the exhibitor's hall before anyone was allowed to go through the area. I'm not sure it was sanctioned, but I'm non-threatening and little. I look like I belong, right? The people at Monster didn't like the fact that I was snapping pictures of their booth (my bad) but I did hear them say that they're not having a party because they'd like to spend the money on charity and making the SHRM experience more memorable. So that's all fine & dandy.
Also, first buzz phrase: "I'm not going to message this for you…"
More gossip: the two guys in front of me are wearing navy blazers.
I forgot one more thing: there are lots of signs around here. No food or drink. Leave the pens alone. HR people can't help themselves. They are totes bossy.