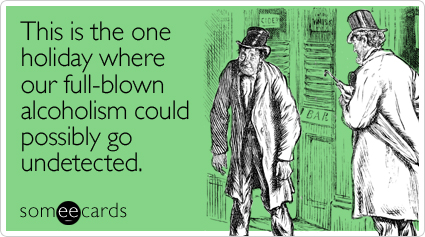 Many of us enjoy bonding with our associates over cocktails, beer, and 10¢ chicken wings during happy hour. Some of us have a glass of wine during dinner with our colleagues and clients. And some of us have puked on a coworker's car.
Even with a focus on wellness, the modern workforce doesn't always support sobriety. This can be a problem for the more than 12 million alcoholics — at various stages of the illness — in the United States.
I'm fascinated by my colleagues and associates who are sober and open about it.
It's a fact that many people are largely ignorant of alcoholism issues or how alcohol addiction recovery services work.
Recovery is a part of their lives and there is no reason to hide it.
Talking about sobriety is second-nature.
In order to avoid the peer pressure of drinking at work-related events, they are honest with their colleagues.
I'm equally fascinated with the people who don't talk about sobriety — and I get that, too.
Coworkers are idiots and ask invasive questions.
It's not comfortable to discuss alcoholism and addiction in a public setting.
Other people feel compelled to 'abstain' around that person — and it feels obnoxious or forced.
Schwoo.
I think about recovering alcoholics & addicts during big events like the Superbowl, the NCAA tournament, rugby tournaments, St. Patrick's Day, and the World Cup. Many of us don't think twice before inviting a colleague out to drink. We guzzle down a martini (or two) and then slur/speak to a coworker who has been drinking water all night long. And some of us act like morons and ask obnoxious questions when we find out that a colleague has been sober for ten years.
Hm. I know that I'm a fool and I've done all of those things — and more — including puke on the side of a coworker's car. So, uh, yeah. Happy St. Patrick's Day. I would like to apologize on behalf of my tone-deaf brethren who just don't get it. We never well. And I'm glad our alcohol consumption has absolutely nothing to do with your personal journey.