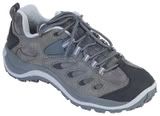 Today was Day #1 of my run camp & the anxiety attacks are near-crippling. Oy.
I'm too old to run.
I'm too slow to run.
I'm too big to run.
I'm too gassy to run.
Lots of barriers — all mental — which is silly because I'm the totes biggest champion of my own abilities. Who's more confident than the punk rock HR diva?
I'm out of practice at tooting my own horn. I haven't had to walk into a room and tell you the fifty-two reasons why I can accomplish what your former HR manager couldn't accomplish. I haven't had to show you a demonstration of competence from the HR department. I haven't had to get something done that seems impossible. I don't currently need to earn your trust, thus reinforcing my superstar status (in my own mind).
Here's the dumb part: I can totally run a 5K in my sleep. I'm not old. I'm not (all that) lazy. I'm not out of shape. Why am I my own worst enemy?
So weird. I need to get back into my comfort zone. Someone give me a poor quarterly earnings report and ask me to reduce headcount! Quick!