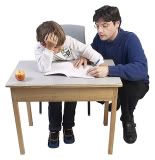 Thoughts on volunteerism from Laurie (& some friends) — after too much wine and lasagna.
Most people who volunteer have issues with people. Psychological problems. Anxieties. Phobias. Know this before you give your time & energies to your favorite cause.
The biggest secret in most volunteer organizations? Sane people just write checks.
The problems most charities attempt to address are long-standing and very complex. You can't show up on a Saturday afternoon and expect to change the world.
No amount of volunteering will improve your marriage.
If you don't like people, you aren't meant to lead a volunteer team.
When you start accusing people of having an agenda, it's time to resign from your local charity.
Conspiracies are best left to governments and corporations.
If you're looking for something to do, please don't volunteer and expect immediate fulfillment. Rent a movie, instead.
Finally, here's something many of us agree upon:
Nothing worth doing is worth doing for free.