I was just saying that the corporate speaking circuit is a suh-wheat way for celebrities to make money. Here are some pictures of Erik Estrada's ride on the Verified Person Inc bus at the 2008 SHRM convention.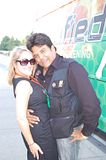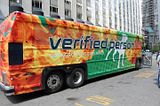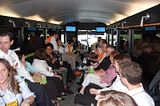 I have no idea where they were going or what they were doing with Ponch, but those HR dudz in Dockers seem to be having a great time.
Hats off to Camille — who is both brilliant and adorable — for coordinating such a creative event!
Update: Dudz, here is a video made from the event. Hysterical.
[youtube www.youtube.com